GLENN FAMILY
---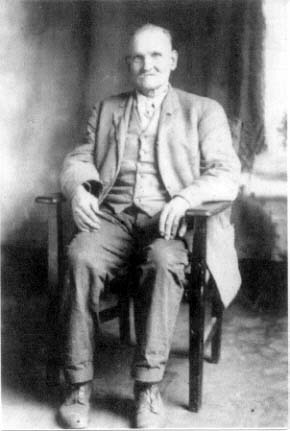 Lorenzo D. Glenn - great grandfather to Wynona Lavern (Harrison) Gowdy
Lorenzo Dow Glenn was born May 18, 1849 in Arkansas and died in Joplin, Missouri in 1937. Lorenzo was 88 yeaers old when he died and is buried at the Forest Park Cemetery in Joplin. He was a painter, paper hanger according to his death certificate. Lorenzo worked for the railroad as an engineer in his younger days. Lorenzo was married several times: first to Nancy Crockett Durnell (born in 1848 in Kentucky, daughter of Wm. H. Durnell and Louisa Payne) in South Township, Dade County, Missouri November 24, 1867. They had a daughter Luzetta (Lysette) P. Glenn (born August 23, 1868) and David W. Glenn.
When Lorenzo married Nancy Crockett Durnell in Dade County it is rumored that he left her there with her children. On the 1870 census, Nancy was living with her mother, Louisa P. Durnell and children David W. (3 years, born in Missouri) and Luzetta (Lysette) P. (1 year, born in Missouri). Census shows Nancy as being 21. Lorenzo was living in the house of Ebenezer Bourland in 1870 in Franklin County. He was 21, an engineer and living in Arkansas. No wife listed.

Lorenzo married again to a Mary B. who was born in 1854 and died in Joplin. Children were Rosa A. Glenn born in 1875, Lillie Viola Glenn born in July 13, 1875 and Paul Boyton Glenn (? born in January 6, 1882 in Van Buren, Ark).

The 1880 census in Franklin County, Arkansas shows Lorenzo Dow Glenn, age 31, engineer with wife M.B. age 26 wife with the following children: Luzetta (11 daughter, born in MO); Rosa A. (5 daughter, born in Ark); Lilly W. (3 daughter, born in Ark) and Bud (1 son, born in Ark). It appears that Lorenzo went back to Dade County and took Luzetta from her mother and left the other two children.

Lorenzo, age 36, married a third time to Annie Orr, age 17 on December 19, 1886 in Franklin County, Arkansas.

Lorenzo was the son of James Wilson Glenn and a Mary Mur Rogers out of White County, Tennessee.
---
Hotlinks | Guestbook | Home| Coat Of Arms | Discussion Board
vernon@gowdy.org